Masach Introducing: MS345-20, Standard Drawn EMI/RFI Shield Seamless Protective Cage !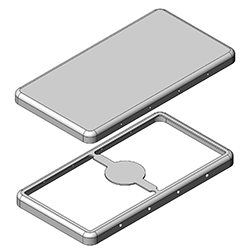 Two-piece RF Shield 34.5 x 21.5 x 3.2 mm, EMI Shielded Can, RF Shielding Cabinet for PCB, Board Level Shielding, Tin Plated Steel.
MS Drawn EMI/RFI Shields Features & Benefits:
Seamless Protective Cage
For higher shielding effectiveness.
Solid Construction
To resist dents and warps.
Optimal Planarity
For higher yield on reflow soldering.
Two-piece Shield Design
enables to repair components without removing the shield, saving time and reducing repair damage !