Holin-Tech doesn't simply supply standard size products but manufacture industrial connector assemblies according to customer's requirements.
We assist in the development of your new product from concept to design, tooling, prototyping, to finished product for your specific applications.
Custom Wire Harness & Molded-cable Manufacturing for Your Specific Applications
We specialize in custom harnesses for the widest diversity of cable and connector types, across the whole spectrum of industries. We built your unique Molded Cable Assemblies according to your specified shapes, sizes, pin configuration and cable materials to suit Ethernet, Automation, Marine, Transportation Applications…etc.

Custom Molding services for specific applications
In addition to the production of typical molded-cable assemblies, we also offer Custom Molding services, such as PCB waterproof molding, Sensor waterproof molding, Custom molding, Metal parts with Plastic injection molding, CNC Turned Parts & Pressed Metal Parts.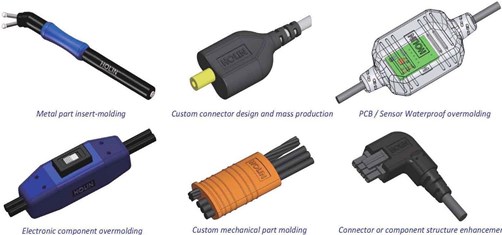 Electromechanical Box Builds and Assembly
Holin-Tech offers Customized waterproof junction box for power or signal, Outdoor weatherproof enclosure with pre-installed waterproof RJ45 / USB / HDMI connectors series.
Final assembly of the enclosure will generally include assembling a PCB into an enclosure, wiring the PCB to external connectors and power, final assembly testing and packaging.