Jauch Quartz has been involved in battery technology since 1974. Recently we added our own Jauch lithium-manganese dioxide batteries, types CR123 and CR2, to our range. With its potential of -3.05 V, lithium is an ideal negative electrode material for batteries. It results in high cell voltages and high capacities.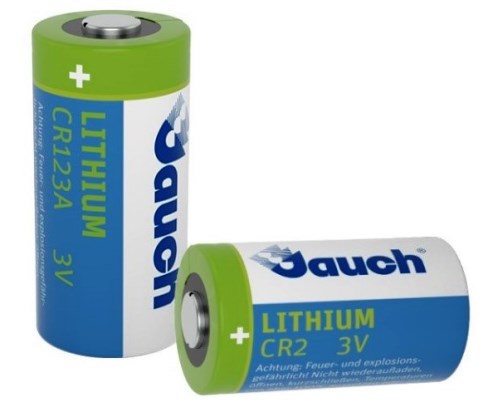 Key features of the Jauch batteries
Long-term reliability
Stable discharge characteristics
Stable Operating Voltage of 3V
Superior Leakage Resistance
High energy density (3 to 10 times higher than other non-lithium batteries)
-40°C to +70°C Operational Temperature Range
Self-discharge rate: less than 1% per year at room temperature
Long shelf life (90% capacity remaining after 10 years storage at 20°C)
Extremely safe because of UL, UN38.3, CE and RoHS certification
The high-performance cylindrical CR123 and CR2 lithium batteries extend Jauch's battery product range to cover a diverse range of applications such as lock cylinders, mobile measuring instruments, toll-collection systems for commercial vehicles, security solutions, medical technology and many other fields.