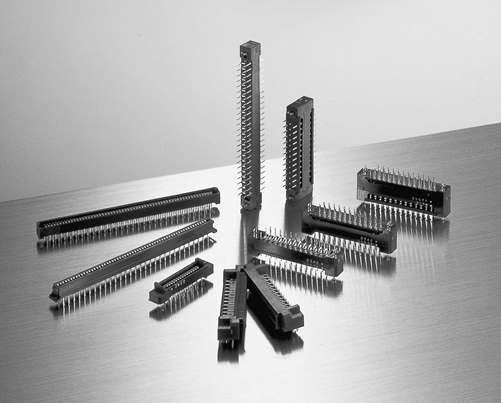 The 89 Series of low-profile, half-pitch connectors utilizes the concept of securely-fit, one-point contacts. Having the most compact design and lowest profile of all KEL half-pitch connectors, and also featuring a guide mechanism, this product is ideal for SMT applications.
The connectors of the 8900 Series have become the de facto standard for removable-media applications as used in laptop computers. Furthermore, the right-angle variation provides three rows of tail contacts in order to facilitate high-density mounting.
With five variations of stacking height between 7 and 12 mm, and eight variations of contact numbers between 20 and 120, these connectors support application in a diverse range of situations. Naturally, connections can be made in three dimensions in the form of stacking, vertical mounting, and horizontal mounting.
Features:
Low insertion and withdrawal force
Mating process is reliable and self-aligning
Guide pins assure smooth mating and un-mating
Insulator protects the contacts from damage or breakage
PPS insulator offers high temperature resistance
Stacked mating heights of 7, 8, 9, 10 and 12mm (0.276, 0.315, 0.354, 0.394 and 0.472″)
Eight sizes: 20, 30, 40, 50, 60, 80, 100 and 120 pins
Audible "click" assures users of complete mating
Three variations; Horizontal, Vertical and Stacked
3 rows of terminals conserve board space
RoHS compliance