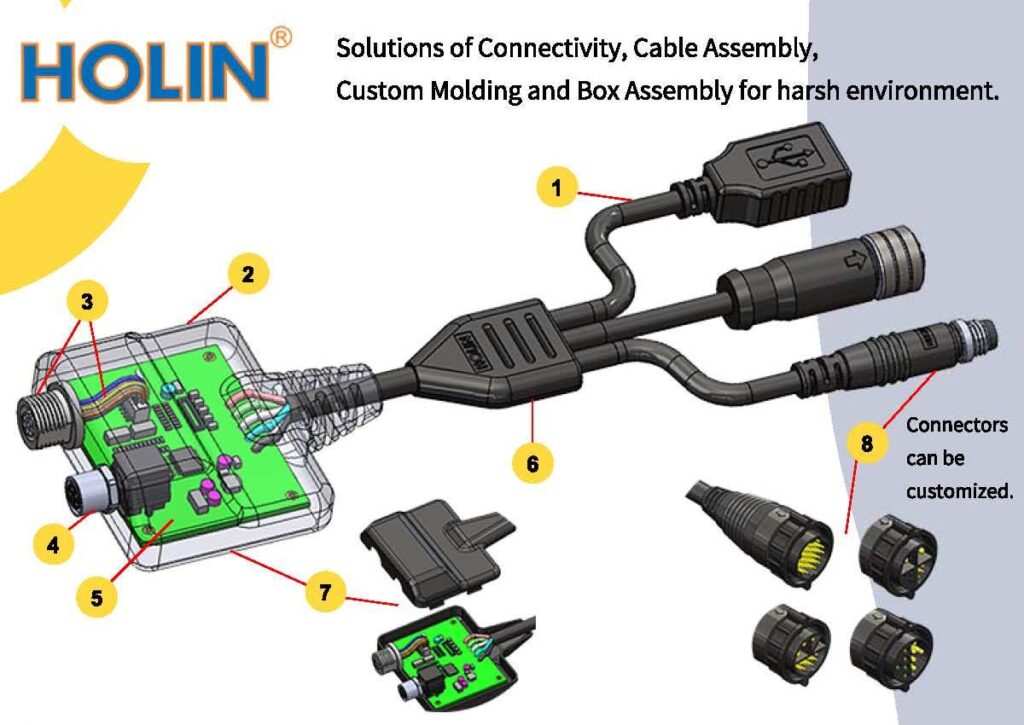 Holin-Tech doesn't simply supply standard size products but manufacture industrial connector assemblies according to customer's requirements.
We assist in the development of your new product from concept to design, tooling, prototyping, to finished product for your specific applications.
Cable specification and environment application can be defined, Cold, heat, weather, UV, chemical, oil, salt resistance ..
Application for automation, automobile, agricolture, railway, industrial computer, mining, marine …
Low pressure injection overmolding:
#1. Watertight encapsulation.
#2. Exceptional resistance to extreme thermal cycling.
#3. High temperatures and chemical exposure.
#4. PCB and component protection.
Panel mounting connector with wire harness assembly can be define.
More that 300+ HOLIN's waterproof Connectors can be chosen.
Outsourcing service for component and PCB assembly.
Custom molding for Strain relief, molded junction, bushing, Electronic component protection …
The overmold of PCB can be enclosure injection and box assembly. Type of resin can be defined.
Molded connectors or components can be defined. Size of connectors, Size of pins, number of pins, resin type, shape can be customized ….