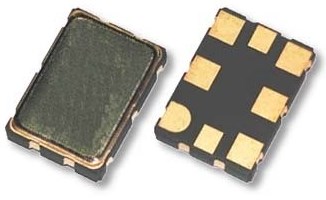 The U-series Crystal Oscillators have a ultra low phase jitter of 0.125 picosecond typical in the frequency range of 150MHz to 2.1GHz with LVPECL, LVDS an HCSL output. This makes the U-series XO excellent for Terabit Ethernet applications up to 400GbE (fiber networking, cloud and storage systems,…) !
Features: 
Ultra low phase jitter of 0.125 ps typical
Frequency range from 150 MHz to 2.1 GHz
Available with following supply voltages: 1.8V, 2.5V and 3.3V
Operating temperature ranges up to -40°C to +85°C
Output logic: LVPECL, LVDS or HCSL
Available package sizes: 7.0 x 5.0 mm and 5.0 x 3.2 mm.
This evolution results in following new HMI products:
In 5.0 x 3.2 mm package:
SX5EU : LVPECL
SX5LU : LVDS
SX5HU : HCSL
In 7.0 x 5.0 mm package:
SX7EU : LVPECL
SX7LU : LVDS
SX7HU : HCSL