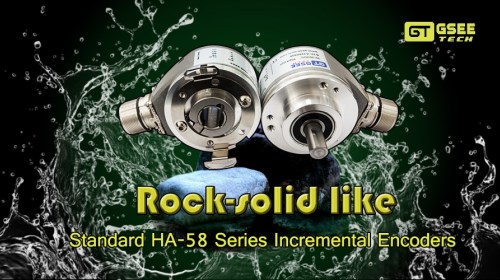 Die-casting metal housing: Sturdy housing not only protects the encoder from the surrounding environment, and also as a shielding layer;
The unique reverse osmosis design of moistureproof and condensation-proof, is suitable for high humidity and differece in temperature environments, could effectively protect the circuit from corrosion and destruction;
Unique bearing design effectively reduces axial runout, and axial and radial load capacity maximum up to 300N, could cope with violent vibration and shock.
GSEE-TECH standard HA-58 series upgraded of incremental encoders could be able to adapt to harsh environments, and meet customer's demand.
Features:
■ resolution up 25,000PPR, the maximum output frequency up to 300kHz
■ die-casting metal housing, sturdy and reliable
■ -40 ~ + 85 ℃ operating temperature range, IP67, adequet to outdoor environment
■ variety of signal output interfaces
■ variety of output connections such as with cable, M12/M23 connectors.
■ safety and reliability with reverse polarity protection and short circuit protection
Typical applications:
■ Steel rolling line
■ metallurgical industry
■ ports and piers
■ oil drilling  
■ machinery