Andon Ultra Low Profile Solder Form Sockets™
ANDON SOLDER FORM SOCKETS™ • Solder preforms are assembled under the head of the socket terminal for low profile accurate solder volume and placement on your PCB • Cost savings by eliminating the need to apply flux or solder paste stencils. • Further cost savings by using removable carried sockets. Great reduction in hand labor costs. • Individual pin sockets and removable carrier sockets available for all probe sizes.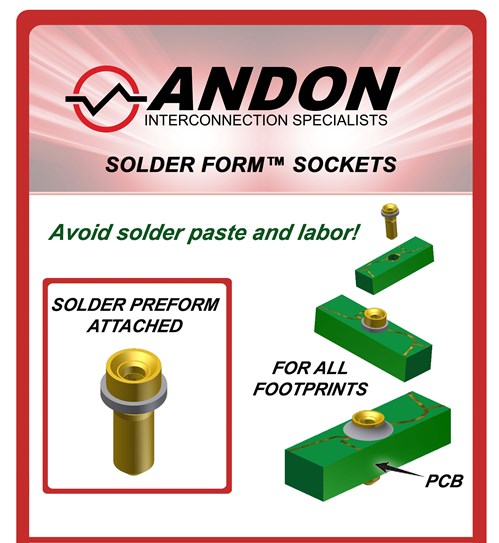 Removable Carriers available for all footprints !!
Solder preforms provide accurate solder volume/thickness/diameter and accurate placement
Solder preforms eliminate need to apply flux or solder paste stencils
Placement of solder preform under head of socket terminal provides low profile
Removable carrier sockets eliminate need to manually load each pin